How Should Be My Dining Room – I
How Should Be My Dining Room – I
Dining room is the heart of a home for it's the place where you spent warm moments of being together with your family and friends sharing the joy of food. It's not only a place for food but also of laughter and fun of talking, which is why the image of your dining room comes to your mind with a lot of memories. In this blog we are sharing some classy yet modern looks for your dining room. These trends are hot with the architects around the world for the luxury living.
Country Style Dining Rooms

Natural light and space are hallmarks of the country style, which seeks to create a traditional, solid dining room which harks back to centuries old dining traditions. Sturdy dining furniture, elegant wooden flooring and the use of white carpentry for the cabinets are common elements of the country style, as are benches around the walls and underneath the windows. Soft carpeting is often also combined with wooden walls to superb, timeless effect.
Modern Dining Rooms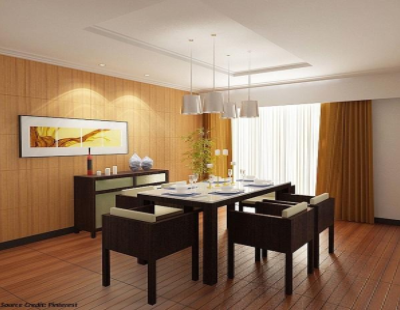 Modern dining rooms seek to make a statement, while providing a comfortable place to take your meals. Accessories are kept to a bare minimum (while the ones that are used tend to make a bigger splash). Glass and wooden tables combine with contemporary seating options and spacious dimensions to conjure up simplified, streamlined rooms which really make an impact. Artful mixtures of colour can also be a great choice, adding some crafty charm to modernist dining room styles.
Eclectic Style Dining Rooms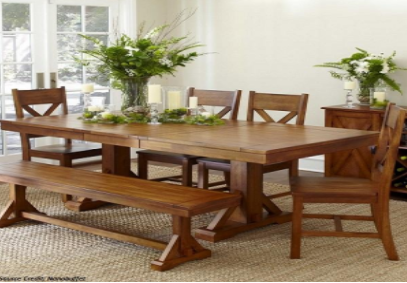 In the eclectic style, anything goes. Well, within reason. Eclectic spaces are comprised of a variety of elements. The key thing to remember is combining these elements skilfully to create imaginative spaces that still retain their internal harmony. Experiment with glass topped tables, solid wooden cabinets and accessories like chalices or chandeliers to create a uniquely personal dining room design. He results can be extraordinary, but the eclectic style takes strong planning to get it right.
Minimalist Dining Rooms

The minimalist style of dining room takes the basic elements of the dining room and boils them down to the bare essentials. Pure white walls or exposed brickwork combines with slender, regular tables and chairs and storage spaces are always integrated neatly into the structure of the room so that they are hardly noticed. It's the very simplicity and elegance that makes Minimalist dining room spaces so impressive.
Royal Indian Style Dining Rooms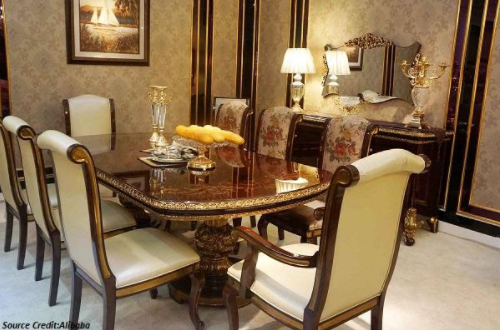 Last but not the least in our list is the traditional royal Indian Style Dining room.   The Ethnic Indian Style is inspired by the richness of Indian heritage. It is known for fine, intricately-carved furniture. Furniture's front legs are generally molded in a way that evokes tradition, as well. The colour palette is warm and suits the Ethnic Indian design style, which tends to use a lot of browns, oranges and golds. One can also add hand-wrought 
Jaali
, back design mirrors, Jharoka etc to give it complete royal Indian touch
Panchsheel Pratishtha is the home of every modern convenience and amenity for those looking to lead a good and comfortable lifestyle. If you are planning to buy a home then talk to one of our experts at Panchsheel for all your queries.
Write to us at sales@panchsheelgroup.com or call at 8287-789- 789
Blog Credit: Homify